@Assist Introduction Video
An Introduction to @Assist from our Founder & CEO, Audrey Charles.
Chat or schedule a meeting with Audrey here.
The Latest from

@Assist
Why You Should Value Your Software Like A Gourmet Meal
Do you remember the last great meal you ate? I mean one of those mouth-watering and succulent, you-can't-stop-gushing-over-no-matter-how-hard-you-try kind of great meals. One of those truly unforgettable meals that delights all of your senses.
Think about the service, the atmosphere ...
Press Release: @Assist Podcast Now Available on SoundCloud
@Assist has launched an awesome podcast to give you access to great content wherever you are! That's right, you can now find @Assist's Podcast on SoundCloud.Follow, like and repost our podcast by checking out our SoundCloud profile or subscribing to ...
New Video: Deliver Notices Like a Winner
This video shows how @Assist has made delivering notices a whole lot awesomer. Our easy-to-use messaging system makes email look like snail mail. Your tenants and residents can choose exactly how they want to hear from you making communication instant."Deliver ...
5 Ways @Assist Helps in Disaster Recovery
Almost one year ago the Fort McMurray fire reminded us how destructive natural disasters can be to people and properties. The massive fire burned from May to July 2016 and was Canada's most expensive disaster costing $3.58 billion. It destroyed ...
After Startup Grind: Final Thoughts
After exhibiting, multiple meetings, pitching on the main stage, and countless hours of preparation paired with the overall excitement of attending Startup Grind, we're exhausted! Although the conference is over, we made lifelong connections and friends that we will treasure. ...
Get our Media Package
Learn about who we are and what we do with our beautiful action-packed Media Kit.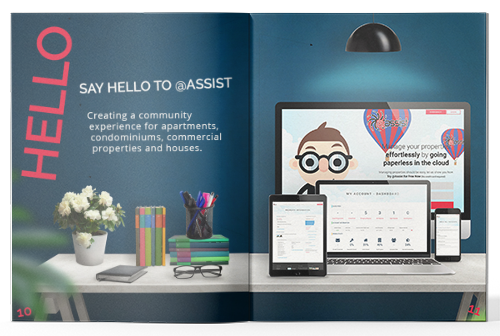 View Media Package