How @Assist Can Replace Contractor Dispatch Software for $30/month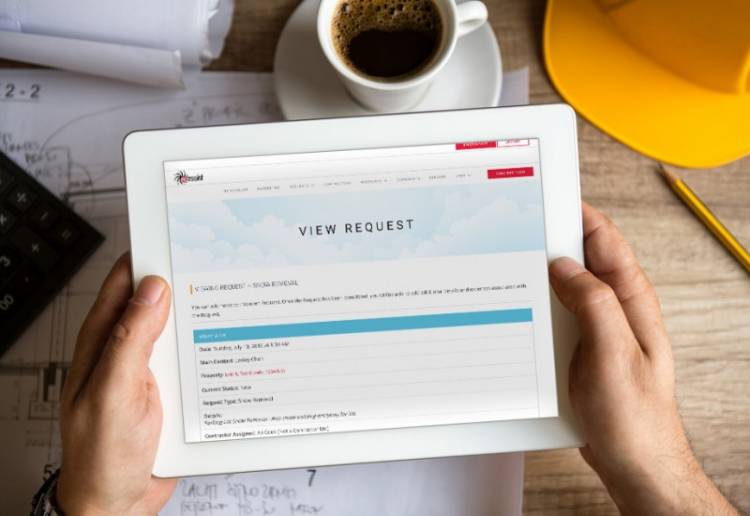 When building @Assist, we had in mind a particular purpose, namely, to assist anyone who manages properties. But what about contractors who perform maintenance work for properties? In this case we'll explore how a contractor proposed using @Assist to replace his costly Contractor Dispatch Software. We were surprised too!
This contractor provides various services to properties including landscaping, snow removal and concrete repair. For the sake of simplicity, let's focus on snow removal as it's both time consuming and completely at the mercy of the weather (especially here in Canada!).
Now let's paint a picture: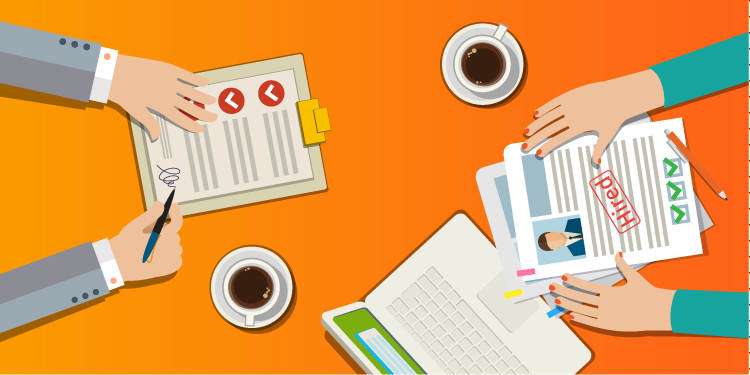 Imagine your company does snow removal and in a single season gets 20 snow removal contracts of varying sizes from a retail shopping center to a three storey walk-up apartment building. In a typical snow removal contract, you have 24-48 hours after it has snowed to remove the snow and ice. 20 contracts means you'll need additional staff, equipment and a way to keep track of it all.
Here's how @Assist assists:
1. Receiving Service Requests
Each snow removal customer is added as a "Property". That property has one designated contact who is able to log in and send service requests.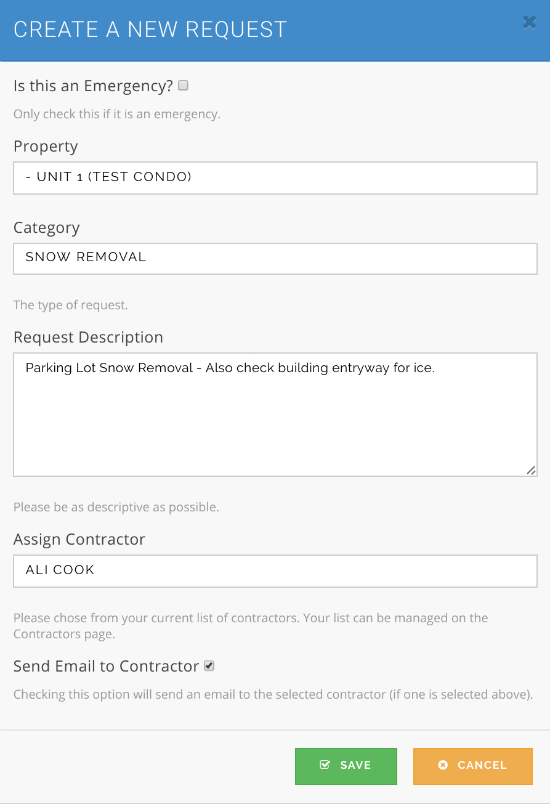 How this can be used: If a property has water dripping from the roof near the building entrance and it has caused a mini-skating rink. They'd want a contractor to make an extra trip to clear this up. Now all they do is send the request via @Assist.
2. Communicating with Customers
With @Assist's messaging system the contractor can send back and forth communication to customers. They can also send general messages not related to a particular service request and customers can log in and respond. @Assist also supports SMS and voice call notifications.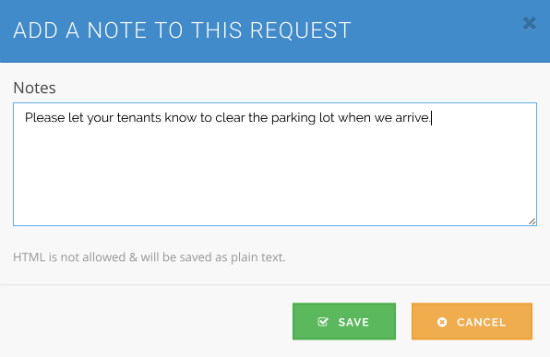 How this can be used: Responding to service requests to ask for more details or information or to set up a reasonable time to get the work done.
3. Create and Duplicate Service Requests
@Assist allows contractors to create as well as duplicate previous service requests. A service request is created each time a staff member needs to go do work at a customer's property.

How this can be used: Often snow removal contracts are based on a flat monthly fee but most contractors don't keep track of how often they are actually doing work at the property. Creating service requests for each visit will allow a contractor to assess if their fees are covering their costs and whether an increase in fees is needed.
4. Dispatching Employees to Service Requests
Employees can be added as "Contractors" in the @Assist System and assigned to service requests. Staff will be notified when they have been assigned to a request.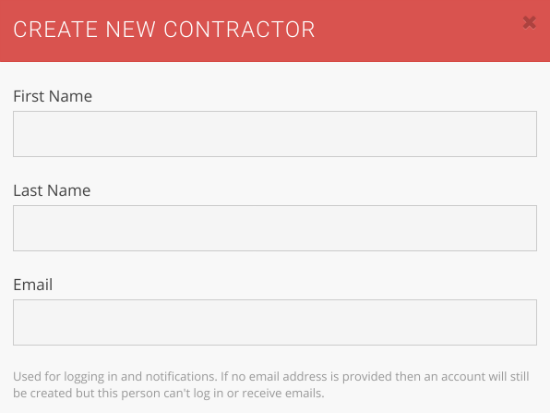 5. Allowing access to Administration, Support and Accounting Staff
Other staff are able to be assigned as "Property Managers" and "Administrators" to help manage customer accounts. Property Managers are assigned to specific properties and will be the point of contact should your customer send in a service request. Administrators can view and manage all customer accounts.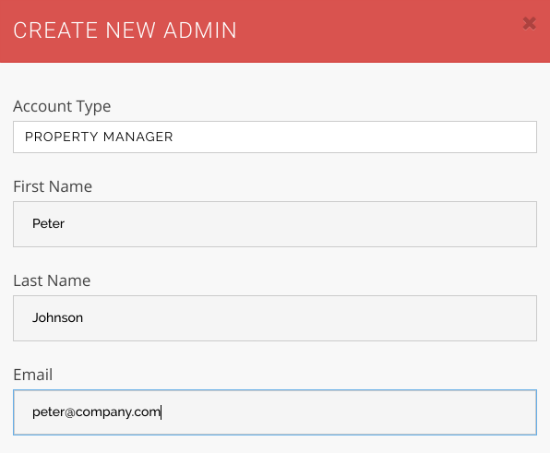 6. Billing the Customer
@Assist allows contractors to add both one-time and recurring charges to a customer's statement. When amounts become due, customers are notified of outstanding charges. Billing and payment history can be viewed by both parties.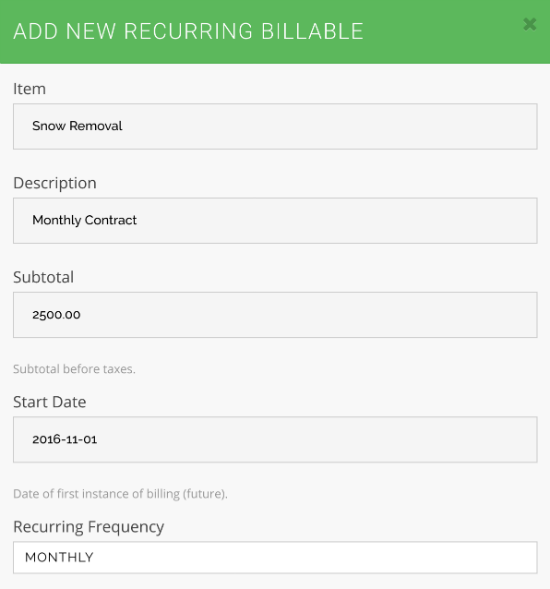 How this can be used: At the beginning of the winter season customer charges would only need to be entered once and it will automatically be added each month and the customer will be notified of their amount outstanding.
7. Printing and Exporting Reports
Billing and service request reports can be exported for a particular customer or all customers at once.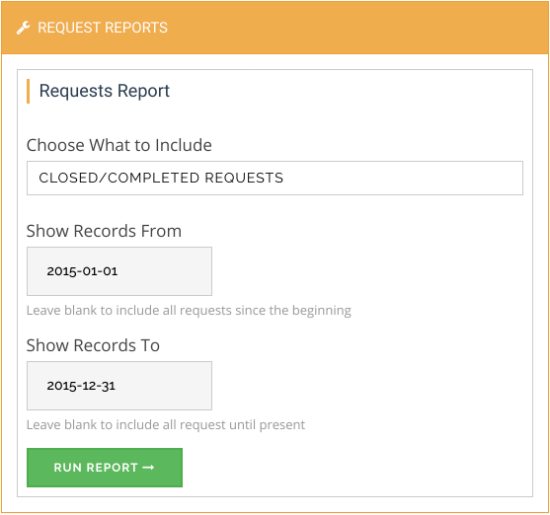 How this can be used: Comprehensive reports allow a contractor to reconfigure their pricing model, analyze quality of work, increase worker efficiency and provide records of historic data should a customer require it.
8. Being Wallet-Friendly
In the case we've been talking about in this post, the contractor has 20 contracts.
Many of the Customer Dispatch Solutions out there start at around $100 per month but will also charge costly setup fees, additional user fees and might even charge you per customer!
@Assist charges are based on how many units are being managed. In the case of a contractor, units equates to customers. The cost to manage 20 units is just $30 per month.
That's a minimum savings of $70 per month!
With savings like that, we can certainly understand why some contractors are thinking creatively.
---
Click here to get your company started with @Assist.