The Best Way to Remember and Virtually Celebrate Employee Birthdays

A powerful workplace motivator is the simple act of recognition. Employees want to know their work is an important part of the collective. Acknowledging employee accomplishment, hard work, and self-efficacy are small actions that have huge ripple effects. When employees receive adequate recognition for their work, they are more likely to stay engaged, exhibit a strong work ethic, and connect with their team.
But what about acknowledging non-work-related accomplishments? Work anniversaries, birthdays, and other milestones are life-accomplishments that deserve just as much recognition as work achievements.
The Importance of Celebrating Birthdays at Work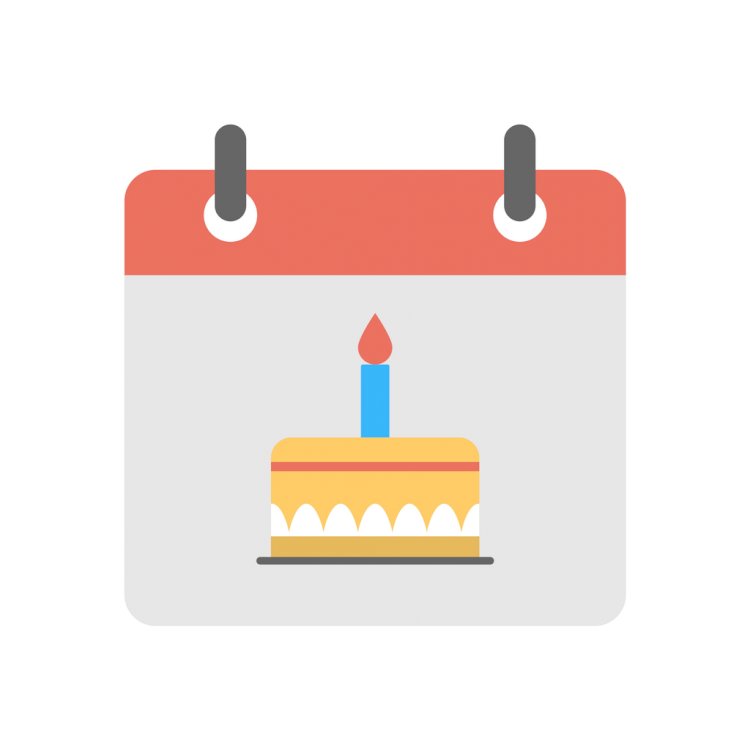 Statistics show that job hunting jumps 12% just before birthdays, particularly mid-life celebrations. Why? Birthdays mark important milestones that often come with a period of self-reflection.
Employees consider whether they've met the goals they set for themselves previously, both personally and professionally. On the off-chance that your employee is considering a career change or eying up a competitor company, the last thing you'd want to do as a manager is neglect their birthday.
Celebrating employee birthdays is a steadfast way to engage employees and make an employee feel valued. Both of these result in boosting employee morale, which is a significant factor in an employee's outlook on their job and a factor in overall productivity.
Birthday celebrations also unite teams!
Whether it's sharing cake in the breakroom or sending birthday gifs in the #birthday channel on Slack, birthdays are a commonality amongst all of us and they provide a great opportunity for team celebrations!
How to Effortlessly Track Employee Birthdays
Although the age-old method of a paper chart or an excel spreadsheet worked to track birthdays at one point, they likely don't cut it anymore. And, unless you've got incredible memory retention, chances are you can't keep all of the dates organized up there either.

That's where birthday and anniversary tracking software comes in handy. Birthday tracking software, like the feature integrated into Kiku, allows managers to create teams and track birthdays from day one with onboarding. These software allows you to create groups to track birthdays and work anniversaries by teams. Enter employee birthdays during their initial onboarding to save you the stress of missing their first birthday celebration.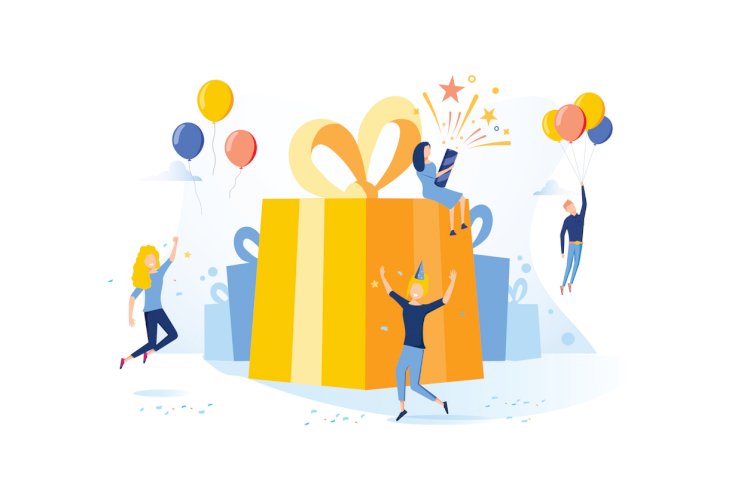 Most of these applications allow users to view a list of upcoming and previous celebrations, giving you enough time to bake a cake—or buy one, we won't judge.
This is especially useful when it comes to milestones you don't want to miss, like 10-year work anniversaries or 40th birthdays.
Cloud-based platforms like Kiku are especially useful when integrated with a communication platform such as Slack.
Simply add the application to the channel you wish to receive reminders on, and the software will notify you of upcoming celebrations!
Some even include personalized messaging and gifs. Connect your team with the ability to share birthday wishes, funny work memories, and more.
5 Fun Ways to Celebrate Virtually
Now for the fun stuff. How exactly should you go about celebrating at work? Simple gestures of acknowledgment show employees you care, but be cautious about providing inauthentic congratulations. A gift card left on an employee's desk may seem like you've checked the box, but there are lots of fun ways to celebrate virtually that connect the team beyond gifts. When working virtually, you may have to think outside the box, but authentic celebrations are doable!
Before jumping into a celebration, make sure you are aware of employees who'd rather keep their birthdays quiet. Not everyone enjoys the spotlight for personal reasons, or they may not celebrate for religious reasons. It's a good idea to ask your employees how they'd prefer their birthday be celebrated when onboarding.
But for those who are looking for a genuine way to celebrate a birthday or anniversary, look no further!
Host a Virtual Coffee Break or Lunch Hour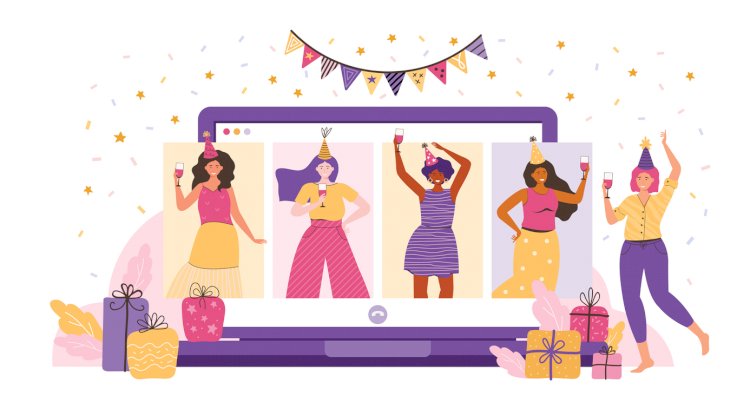 Bring employees together for a virtual birthday or work anniversary celebration! This is a great way to connect your team while also recognizing a birthday.
Consider sharing favourite memories, birthday wishes, or just using the time as a way to enjoy a beverage and engage in non-work-related conversation.
Deliver Local Treats
Send your birthday individual their favourite snack as a surprise gift!
Many delivery services offer the option to include a personalized message with delivery, allowing you to send birthday wishes along with your treat.
Does your employee rave about their favourite local bakery or coffee shop in town? Use this as an opportunity to support your employee's local community while also gifting them a surprise they'll enjoy. Who doesn't love receiving pastries at their front door?
Create a Collaborative Video
Get the team together to create a collaborative happy birthday message. Whether it's a birthday song or a video sharing personalized messages, this gift is a sure way to share a laugh and make your employee feel extra special with messages from the whole team. Software like WeVideo lets users co-create videos by adding their own clips to a collaborative timeline.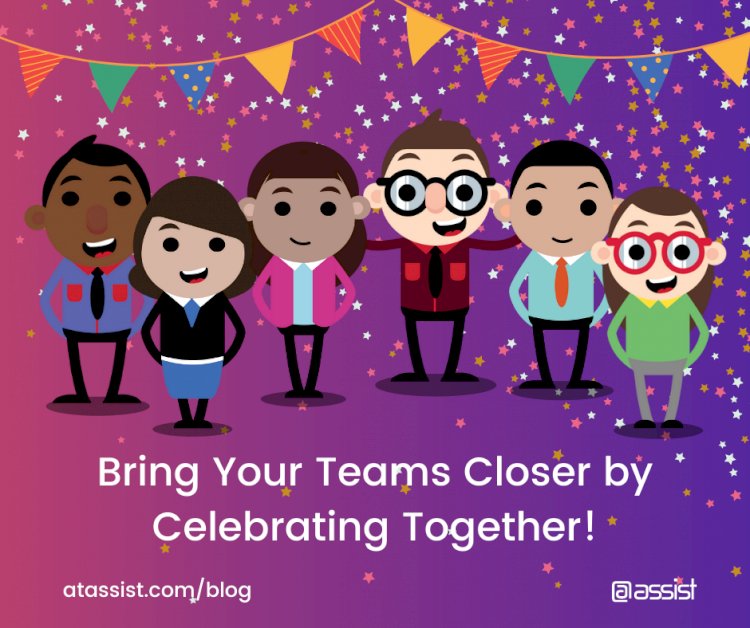 If video content isn't up your alley, consider creating an e-card using Canva or similar software and asking each team member to add an element or message.
Gift a Celebrity Guest Appearance
Looking for an ultra-personalized birthday message? Cameo lets you receive personalized videos from your favourite stars. If your employee can't stop talking about an actor from their favourite show, consider requesting a birthday message with Cameo.
Accommodate Time Off
Last but not least is the gift of time. Many workplaces accept time off on an employee's birthday to allow them to enjoy their day in whichever way they choose!
Consider using a time off management app like Kiku to organize these time off requests. An added bonus—Kiku also tracks birthdays and sends reminders! Birthday celebrations, solved.
---
@Assist Business Solutions on Slack
Kiku - Boost your productivity and create a happier workplace with Kiku, the ultimate time off management solution! Embrace the simplicity of requesting, approving and tracking time off requests right within Slack. Sign up for your 14-day free trial today!

Toki - Effortlessly create tasks and projects, organize to-do lists, monitor progress and track time and enjoy seamless communication with Toki workflow management solution. Ready to supercharge your team's performance? Try Toki today!