Revamped and Ready: Unveiling Toki's Latest Updates for Seamless Workflow Management!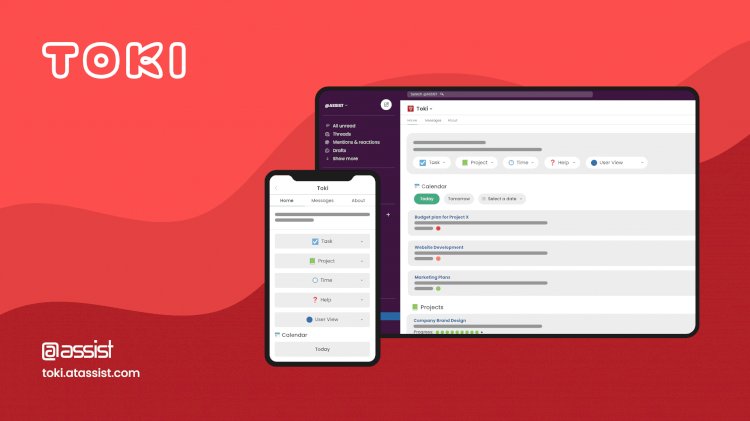 @Assist is proud to present the enhanced version of Toki, our workflow management solution for Slack. With relentless dedication and the invaluable feedback from our users, we've meticulously developed the second version of Toki to provide you with a glitch-free project management experience.
Bug Fixes
We've diligently addressed bugs and fine-tuned existing features to ensure a seamless user experience. Here's a roundup of the fixes we've implemented to make Toki a powerhouse of reliability:
Updated the Edit Time Log functionality in Moderator View, putting you in control of accurate time tracking.

Resolved the View Tasks feature in Project View modal in Moderator View, giving you a clear perspective on project progress.

Implemented notifications for users whenever task statuses undergo changes, ensuring everyone is in the loop.

Streamlined the menu by introducing a separate option for changing task status, boosting user experience and clarity.

Resolved the updating issue in the Recent Time Logs modal, allowing you to maintain up-to-date records by seamlessly editing or deleting time logs.

Nailed down the complex problem with timezone handling, guaranteeing accurate timekeeping across locations.

Resolved the Delete Task functionality for Admin View and Moderator View, making task management more efficient.

Sorted out the task priority label assignment glitch, so you can prioritize with precision.

Rectified the Filter by Member functionality in the Moderator View, empowering you to find what you need effortlessly.
Exciting New Features
The improved Toki doesn't just stop at fixing what was broken; it brings forth an array of exciting new features to improve your workflow:
Task Filters for User & Moderator view: Seamlessly navigate through your tasks with newly added task filters, including options to sort by created date, assignee(s), created by, status, priority, and due date.

Assigned Task Notifications: Stay in the loop with our new feature that notifies you directly in the Message tab whenever a task is assigned to you. Say goodbye to missed deadlines and miscommunications!
Get Ready to Elevate Your Workflow
We've worked tirelessly to improve your experience, ensuring that Toki becomes your ultimate tool for boosting productivity and fostering teamwork. This enhanced version of Toki offers a better user experience for Project Managers and teams, and is now live and available to install.
For those who have been with us from the start, thank you for your invaluable feedback. And for those just joining the Toki journey, welcome – your workflow is about to transform.
Don't wait another moment – upgrade to Toki and experience the world of smoother collaboration, efficient management, and stress-free productivity.
Stay tuned for more updates, tips, and tricks to optimize your Toki experience. If you have any questions, feedback, or need assistance, feel free to reach out to us at support@atassist.com.