5 Tips For an Effortless Transition to Remote Work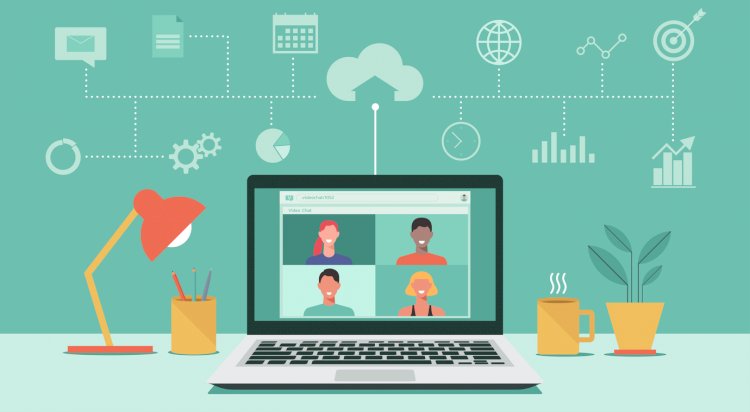 Have you decided to switch your business operations to remote work?
Whether you're transitioning to remote work to save money by eliminating rent, save time by losing the commute, or you've decided to expand your staff outside your city, there are a few essential steps you must take to make the change stress-free.
It is important to maintain effective teamwork and collaboration in the workplace when working remotely to sustain healthy work dynamic. This may be difficult at first, but once your employees grow accustomed to the transition, it will be like they never left the office!
Here are a few tips that you should follow if you would like to make a smooth and easy transition to remote work.
Set Clear Expectations
When beginning the transition towards remote work, it is essential to produce a new policy agreement for all staff members to read and sign. The new policy will help staff members understand what is considered the new normal with their job and to better understand expectations.
Are you expecting daily updates on their progress? Cool, let them know!
Do they have flexible break times? Perfect, tell them!
Are you using new software to organize all the projects? Great, provide some basic training!
Once you have made the necessary changes for the business operations and created your new policies, you should listen to your employees and see how they feel about the changes. They may have some important pointers of what should be added or changed in the policy, so don't disregard their suggestions!
Listen to Employees' Needs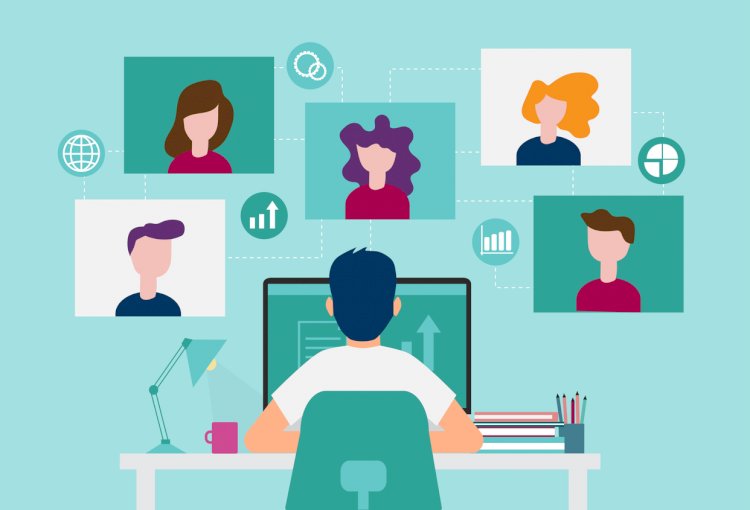 The quick transition to remote work can initially catch your employees off guard. This transition doesn't just change their location of work, it changes their home life too. Talk to your employees and see how they feel about these changes. Ensure that they understand the reason for the transition to remote working and address any questions or concerns they may have.
Try to accommodate your employee's needs. If they have any suggestions for how you can improve the remote working environment, consider using them. After all, this change will affect the whole team.
There are easy ways to keep up with employee suggestions. As an employer, you can start to conduct surveys or video check-ins one to four times a month so employees can voice their ideas or concerns and feel like they are being heard.
If they are having trouble staying focused on work, feel like their workload is too much, or lack support from the company, these can all be addressed during the check-ins. Even if employees are satisfied with the current work method, this is important to know so you can keep using tactics that work!
A great way to conduct these weekly or monthly check-ins is through using workflow management software.
Use Workflow Management Technology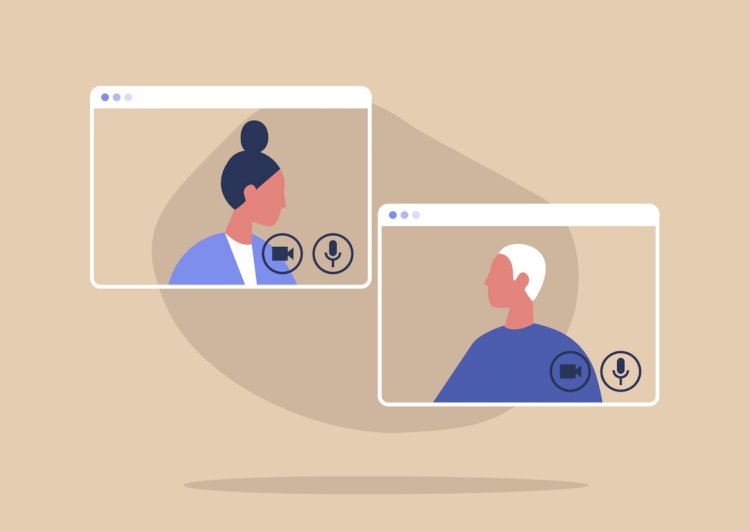 One challenge of working remotely is not knowing if your employees are on track with their projects. Was there a miscommunication? Are they working on someone else's assignment? This is where a workflow management tool helps.
Managing employees remotely can be difficult without tools to assist with the company's operations. The software helps you allocate tasks between your team, ensure that they know exactly what is expected and how much time they have to work on each task.
If you are looking for workflow management software, an exceptional one you should try is Toki! Toki's great features allow you to manage all of your employees within one platform. Toki allows you to create and organize projects; you can assign members and create a description of what needs to be done for clear communication. For smaller assignments that need to be completed within a project, Toki's task assignment is here to help! Create and assign tasks to ensure project details are not missed. Don't forget that you can assign a due date to each to ensure all deadlines will be met!
Not only can you manage your projects and tasks, but with Toki, you can visualize them with the project Progress Bar! As every task within a project is completed, the Progress Bar will slowly fill up until you are completely done with the big project and ready to move on to the next one.
Speaking of visualization, Toki Premium gives you access to Advanced Calendar View. Toki provides a visual calendar with all your important due dates and meetings. Never miss the important things when your calendar reminds you of it all.
Even if you don't work remotely, or are transitioning back to an in-person work environment, Toki is a great workflow management tool to have on hand for teams of all sizes.
Another great feature of Toki's workflow management software is that it is integrated into Slack to increase your company's communication!
Keep Communication Strong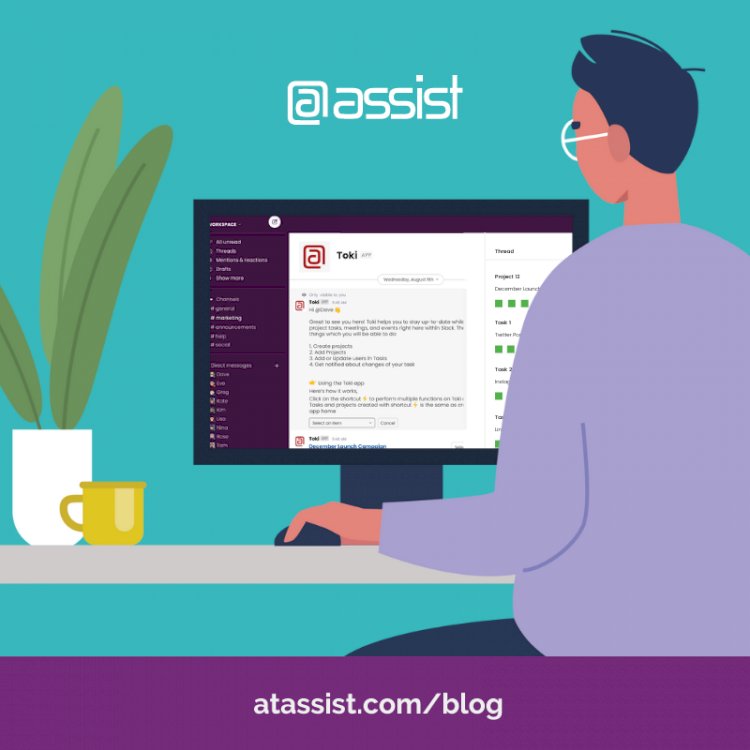 It can be difficult to communicate with your team if you are not all located in the same building. By utilizing software such as Slack, you are given access to a single platform that your team can easily work and communicate within.
Slack will be your best friend when running a business remotely! Slack is a communication platform that quickly connects you with your team. You are able to create channels for each department or privately message employees. If you need a quick chat with someone in particular, the huddle function works great; it's Slack's version of a quick phone call!
The best part is, Slack has many app extensions that are easily downloadable onto the software, so you do not have to worry about working on more than one platform.
Slack has it all!
It is essential to improve your communication when working remotely for your best business outcome. This can improve the environment and prevent others from getting frustrated due to misunderstanding their task requirements.
Speaking of the environment, ensure that you promote a positive work environment, so everyone feels at ease in their new remote job.
Promote a Positive Environment
Having a positive environment has never been more important. It can be difficult to stay on track or even feel like you are at work when working from home. Remember to be supportive of your employees and address any concerns that arise during the change.
Keeping things positive will go a long way. It helps keep everyone on track and improves their productivity.
Just remember, it doesn't hurt to have some fun at work! Now that you won't be seeing everyone in person anymore and participating in small talk, try setting time aside for everyone to chit-chat about their personal interests. Some people may miss the water cooler chats that they used to have with their fellow employees; it could have been their preferred catch-up spot prior to the transition.
It is good to make the remote work feel as in-person as you can for employee morale. The happier employees are, the more motivated they are to work! Even their quality of work can increase when the environment is supportive rather than isolating.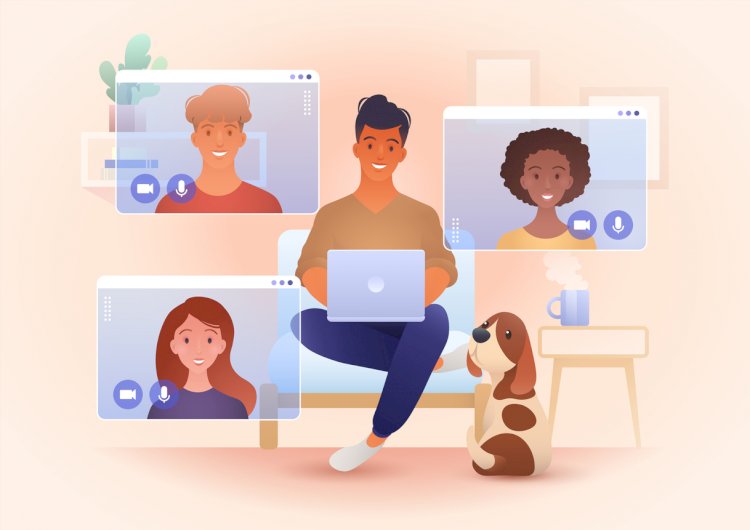 If you see someone missing the mark with the quality or quantity of their work, remember that a new work environment can take a toll on productivity. Instead of resorting to an instant punishment, ask if there are ways you can accommodate or provide clarity for better results in the future. It is much better for your business to have satisfied employees who trust you than employees who feel constantly scrutinized. Your team is more likely to want to help you succeed when they receive compassion and support from you.
It will take time for you and your employees to adjust to remote working. It may be a progressive transition during the first few weeks, but once everyone gets acclimated, the productivity will resume with an increased output!
If your team is unsure about the transition, try to get them to focus on the positive. Now employees are able to spend more time with their favourite furry friends and save money on their daily coffee!
Win-win!
Transitioning to remote work is a very big step for your company to take. Don't rush the process, and trust that you will eventually return to a smooth workflow. And, when in doubt, know that you can rely on your trusty workflow management tool.
---
Workflow Management Tools for Teams
Whether you manage a team of 2 or 120, Toki can help you every step of the way. Toki can help you assign tasks, send messages, track time and apply it to projects, manage finances, and more! You can utilize the wonders of Toki from anywhere, as long as you have access to the internet. Learn More!