Kiku Brings The Power Of Time Off Management To The @Assist Software Suite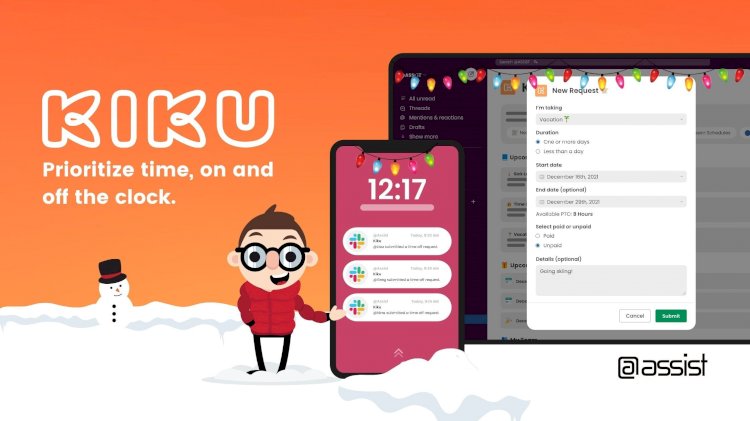 Today marks the launch of the much-anticipated time off management solution, Kiku, on Slack. @Assist Kiku is available on Slack beginning today and offers a complimentary 14-day free trial on both subscription plans — Kiku Standard and Kiku Premium.
The @Assist HR solution combines accessible time off organizational tools with Slack's acclaimed communication platform to bring users flexible time off management from any device. Teams can enjoy intuitive features like simple time off requests, and managers can approve, decline, or discuss requests at the click of a button.
Even better, users can view a list of present and upcoming time off for the entire team and quickly check working hours under Team Schedules. Kiku makes scheduling meetings and assigning projects easy as managers now know exactly who is in the office and when.
Each employee can view their time off request overview through Kiku Home to determine how many vacation days they have used and how many are still remaining. Kiku's user-friendly design ensures all of this information is accessible quickly so managers can spend less time scanning spreadsheets and organizing time off and more time focusing on the work that matters most.
Organization is at the forefront of Kiku's design, which is why @Assist developed the software with three different user views for ease of use: User View, Team Lead View, Team Manager View, and Admin View. These unique user profiles facilitate the most efficient time off management process, nestled right within Slack.
Different leave types are available in Moderator and Admin View to let managers categorize requests in a way that works best for their company and ensure PTO is distinct from unpaid vacation time. Messy tracking spreadsheets, sticky note time off requests, and email approvals are a thing of the past with Kiku's Slack-integrated solution.
Another great addition is the birthday and work anniversary tracking feature. Managers enter new employee birthdays during the onboarding process, and Kiku will remind the entire team of employee birthdays with a notification and customized message. Kiku brings entire teams together to celebrate milestones and accomplishments to foster a greater sense of community at work. Company holidays can also be added and viewed in the app to ensure each team member is aware of upcoming company days off.
@Assist Founder and CEO Audrey Charles explains, "Typical leave management applications have the goal of streamlining time off request and approval processes, but Kiku strives for more. Not only does Kiku provide optimized time off requests, approvals, and a game-changing holiday feature, it also builds a sense of community around birthdays, work anniversaries, and other worthy celebrations. Here at @Assist, we strive to provide our customers with people-first solutions. This means going above and beyond typical business solutions and centering our customers and their user experience in our software. I'm thrilled to announce Kiku as the latest edition to our software suite."
As mentioned, two Kiku subscription plans are available. The Standard plan offers limited time off requests but includes all of the tools necessary for streamlined time off management. @Assist suggests users interested in unlimited time off requests, company announcements, customizable holidays, and team management invest in the Premium plan to take advantage of the ultimate time off management package.
Kiku's powerful design can be paired with @Assist's workflow management solution, Toki, to automate workflow management and mundane HR tasks by creating an efficient work system for remote, hybrid, and in-person work environments.
@Assist is growing quickly, and so is their impact on the software industry. Get streamlined time off management and sign up for your 14-day free trial on the Kiku website.
---
If you're interested in learning more about @Assist and CBS, please visit the CBS site.