Alberta Tech Company Exhibits Smart City Management Solution at CES 2021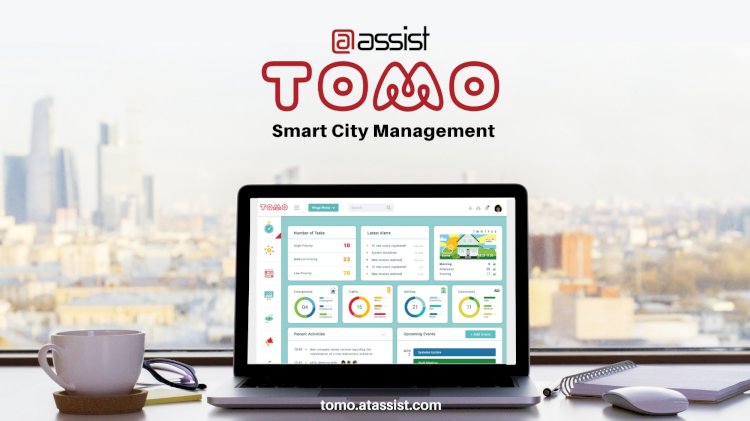 @Assist is exhibiting at the Consumer Electronics Show 2021 (CES) from January 11 - 14, 2021. The mega consumer convention that typically takes place in Las Vegas will be 100% virtual this year, which is great news for international companies like @Assist who were hoping to exhibit their smart city management software.
Over the past few years, smart city technology and surrounding conversations have increased at CES, and @Assist is excited to showcase Tomo, their people-first approach to Information and Communication Technology (ICT)...in other words, cloud-based software that focuses on connecting people to the technology they use. It connects people to IoT, sensors, infrastructure, and other smart technology. Tomo helps cities and communities stay proactive, run more efficiently, and save precious resources, money and time. Residents also benefit from suggestions that will reduce utility bills, and maximize home and lifestyle efficiency.
Tomo can be used in multiple ways and can connect two or 200 pieces of technology. It can be used to make homes smarter, connect city infrastructure, manage the community, or manage the city as a whole. Tomo's flexibility allows cities to use only the features they want to use, and can be customized and localized easily for quick deployment in any smart city or smart community development project.
Tomo has already received global recognition as an innovative and sustainable technology, and has an interesting company history.
If you didn't know, @Assist is owned and operated by Convenient Business Solutions Inc. (CBS) which was founded in 2006 and is headquartered in Alberta, Canada, with registered offices in Japan and Ireland and expertise in optical engineering, software development, sustainable technology, and property management.
In 2009, CBS created @Assist to take a people-based approach to building online solutions for industries in need of a digital upgrade. Tomo is a cloud-based ICT that connects people to IoT, sensors, infrastructure, and other smart technology. This helps users understand what's happening now and why, as well as what happened in the past and what it thinks will happen in the future with suggested action steps.
Tomo can be used for new city/community development projects and existing cities who are adding smart infrastructure, as well as smaller city-like ecosystems like smart neighborhoods, buildings and university campus management. It can also be used on a smaller scale to manage portions of a city like the smart grid, as well as waste, water and traffic management, etc. It will allow for data transparency and privacy while offering flexibility with lots of room for future innovation.
Additionally, CBS provides optical engineering software sales, training, consulting and support. This ties quite well into Tomo as smart cities are heavily reliant on optics (ie. sensors, cameras, smart lighting, 5G, etc). We help companies make this innovative technology that we can then integrate into our own smart city management platform.
As a tech company that targets various industries, CES is a big opportunity for the @Assist team to connect and explore what other ideas and technologies are being presented. CES is known internationally for showcasing the newest and most innovative technology, driving critical market conversations and making connections with media, investors, and fellow exhibitors and attendees from around the globe.
@Assist is looking to secure their pilot case and is looking to collaborate with large technology companies, R&D, universities and colleges and real estate developers. Additionally, they'll be on the lookout for opportunities that require their optics expertise and knowledge. If you're attending CES and want to learn more, please send a message to express your interest.
Keep an eye out for more exciting news from @Assist by following us on social media.
---
If interested in learning more about @Assist or CBS, please visit the websites below.
@Assist (atassist.com): People-first software solutions for industries in need of a digital upgrade.
@Assist Tomo (tomo.atassist.com): Cloud-based smart city management platform that connects people to the technology they use.
CBS Inc. (technixbycbs.com): Exclusive Canadian distributor for Photon Engineering's and Photon Design's software products.
CBS Europe (cbseu.com): Exclusive distributor for Photon Engineering's software products in Ireland, Germany, France, Italy, Switzerland, and Austria.
CBS Japan (cbsjapan.com): Exclusive Japanese distributor for Photon Engineering's and Photon Design's software products.