The Journey to Startup Grind: Application Process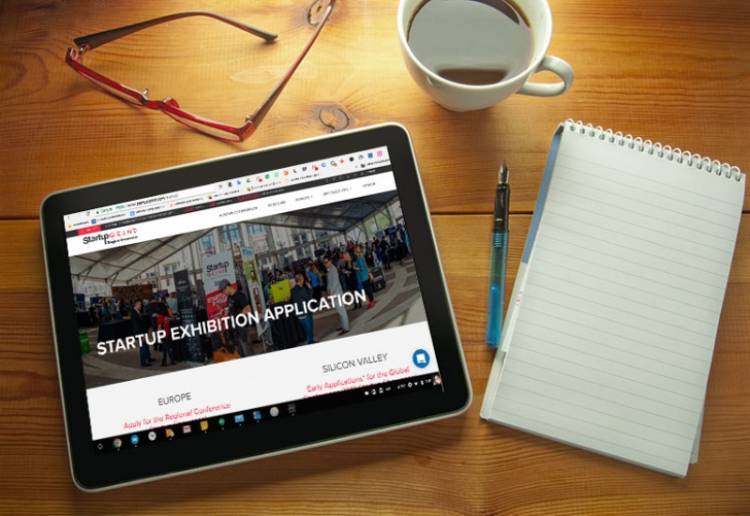 Once we decided to submit an application for the Startup Grind Global Conference 2017, we were all in. We knew we'd be competing with other (over 6000 in fact!) like-minded companies with spectacularly innovative ideas. And here is the step-by-step process we followed.
Step 1: Initial application
The first step of the application is a relatively small one where you submit some details about you and your company. The response process may be automated as it came rather quickly. But when it does come, get ready to roll up your sleeves and fill out the full application.
Step 2: Full application
The full application gets much more serious. It asks you to explain your market size and provide an executive summary. Having these prepared ahead of time makes that process go a lot faster.
Step 3: The email response
After some time has passed and very likely a lot of decision making on their side, they will send an email to either say yay or nay. If nay, mark it in your calendar to apply again for the next conference - it's worth it! If yay, you'll be asked to schedule a time for an interview.
Step 4: The interview
This was a bit nerve-wracking for us, as a laid-back Canadian company who didn't quite know what to expect. We researched to the nines on how investments happen, Silicon Valley tech culture and our interviewer. The best research we did was actually the latter. Our interviewer was into UX Design and that's something our founder, Audrey, can talk about for days.
Like most interviews, job interviews included, your goal should be to find a way to stand out even if it's just trying to be conversational with your interviewer.
Our biggest worries were:
1) That we aren't a Silicon Valley startup. Investor jargon is as foreign to us as a Canadian winter without snow. While we do speak marketing and numbers, the acronyms were enough to make the eyes cross.
2) Our bootstrapped-ness. We are a company who has been supporting ourselves since 2009. Our business plan with and without an investor is more or less the same, an investment would just get us there a lot faster. But in tech company speak, this means we don't necessarily need an investment but rather, can afford the time to find the right person as an investor and partner.
3) We already have a fully built product/are a full-fledged company. Most of Startup Grind's 2016 picks were companies who didn't have a product/website fully finished. We worried about being too far along in the process to be considered as a featured startup.
4) That they wouldn't get our product. Property management is a niche that not everyone gets. Ask most people what a property manager does and the response might be "Uhhhhh....ummmmmm...." But thanks to millions of new homes and commercial spaces being built each year, property management is an industry that isn't going anywhere!
Our interview:
During our interview we were told about the conference, the requirements and cost if we were chosen and then asked a series of questions about our business. We focused on describing our industry and then talked about how our product helps that industry. We described our history and the need for our product and made sure to engage our interviewer. We were told to wait a few days for an email that would again tell us yay or nay.
Step 5: The email response
First, let's put in context what the decision process might entail. With 6000+ applications for 2017, it's likely they were dealing with over 100 applications per week and only picking perhaps 1 or 2 of them. A few days turnaround time is, quite honestly, 2 cents short of miraculous. And the companies who do make it past this step should feel ridiculously honored. We certainly were.
They'll give you a couple of days to make a decision on if you'd like to accept and register/pay for your portion. The payment shouldn't be a surprise as it's posted on their website, application and mentioned in your interview email. We registered that very day.
Step 6: The waiting
Now, depending on when all of this takes place for you things may go quiet for a bit. But this is the perfect opportunity to get your docs and product updated and on point.
Step 7: Top (50) Consideration Application
When the emails do start coming in, one of them will ask you to fill in another application to be considered for the next level of startups. These startups will be given additional perks like the possibility of investor meetings and get to pitch their startup on stage in front of thousands of people. The application is similar to the full application from Step 2 but we think this was planned so Startup Grind could see how your company had progressed from the initial application. We took this second application seriously and filled it out as if we were seeing it for the first time.
Step 8: Email Dance
As a company that promotes awesome communication, we check our email often. This allowed us to be very responsive when an email arrived asking for more/supporting details from our application.
Step 9: The yay or nay
Another email and another honor. Taking 100 companies you love and slicing them in half to create a top 50 is no easy feat. We were so glad we made the cut that we made this video.
Step 10: Shhhhhhh
Startup Grind as part of its process will ask you to not publicly announce your amazing news until a set date.
Step 11: Extras
There are other extras that Startup Grind offer such as a partnership with 500 Startups via a startup court. This where you get to pitch your company, Shark Tank (Dragon's Den for other countries) style to 500 Startups to be accepted into the 500 Startups program. We declined this as we believe we were a bit too far along as well as program timing issues that would cause friction with other commitments.
Step 12: Emails, Emails, Emails
Leading up to the event, more emails will arrive. Opening every single one is important as it may have instructions or requirements you may need to know.
Step 13: Book your tickets and go!
With weather being spotty and flights being even more temperamental, we made the decision to do a 3 day road trip to California. With rolling internet and devices galore, this gave us a lot of things to talk about and take pictures of along the way. And as a plucky Canadian company, we can at least say we came away from this experience with some great promotion.
View all the posts about our journey here.