11 Essential Tips to Start Your Summer Property Maintenance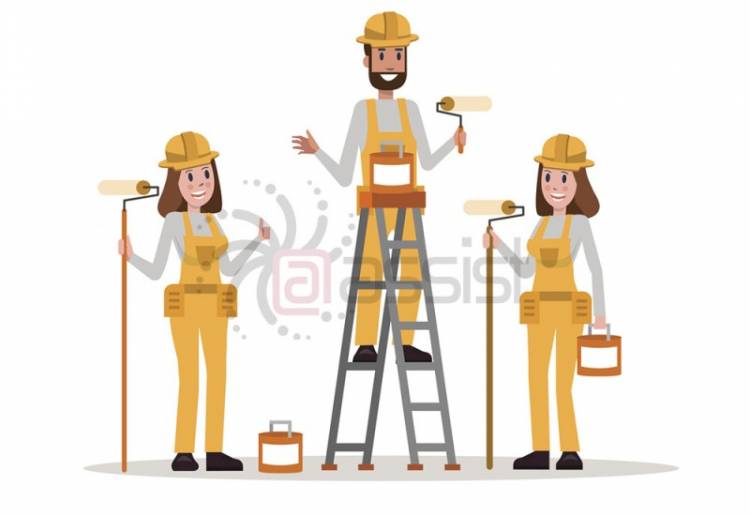 Summer is coming and spring is here already. Which makes it the perfect time to do a little property maintenance! After the wear and tear of winter - with its icy winds, snowy blizzards and freezing rain - your property needs some TLC. Especially since this last winter has been a long one for many of us. (We've only just come out of hibernation with our Netflix and snacks).
It's time to repair the winter damage and do some preventative maintenance too. Have a look through these handy tips to help you get your property ready for the summer ahead:
Do a property walkthrough
The best way to make sure your property is in good shape is to do a walkthrough! It'll help you catch any common problems while they're still small. Noticing a small drip/leak and taking steps to mend a pipe is much easier than having to repair a severely water damaged ceiling.
Inspect your building's exterior
You don't just need to check the inside of your property - you'll need to check the outside too! Winter is notoriously tough on buildings, so a detailed inspection can help you catch any post-winter damage.
Pay particular attention to your building's roof, windows and gutters. And if you have any fences, gates or shutters on the property, be sure to check on those too. Finding any issues now will give you plenty of time to arrange for repairs before the next cold season.
Clean your carpets and take care of your flooring
The cold wet winter weather has finished, making it an ideal time to clean up your carpets and floors. They won't be made immediately dirty again by residents with muddy boots!
You can use a cleaning company to deep clean your property's carpets, which will remove any traces of soil, grime and bio-pollutants. Or, you can replace them entirely! Either way, it's important that you do something for your occupants' health and the building's air quality.
Flooring - whether it's made of tile, hardwood, or another material - also needs some attention. If it's looking worn down and dirty, consider maintenance like deep cleaning, polishing, stripping and waxing.
Tune up your AC units
The time to attend to your AC units is now before you really need them! If you leave it until your residents are complaining they don't work on the hottest day of the summer, you'll be hard-pressed to find a company who can repair them asap. (Because everyone else in town will be rushing to fix their air conditioning, too).
Your best bet is to call a company to do a routine AC service - they'll inspect, clean and tune up your units as necessary. And it also means you can establish a relationship with the company/contractor who performs the check, so you'll know who to call if you do need a last-minute repair in the middle of a heatwave.
Add a fresh coat of paint
Now is the moment to touch up your property's paintwork. The warmer weather will make it easier for the paint to dry, and it means you'll be able to safely leave the windows and doors open to get rid of any paint fumes.
Don't just repaint the inside, though! This is also a good time to repaint your property's exterior - either entirely or just features like doors, window frames and fences - to keep it looking spick and span.
Lawn and garden maintenance
If your property has a lawn or garden, the start of warmer weather is a good time to do some maintenance. Depending on what your contract states, this will either be your responsibility or the responsibility of your tenants. Either way, have a look at your property's outdoor space to determine what needs to be done - and send your tenants a gentle reminder if necessary.
Inspect your electrical systems
Part of routine building maintenance is periodically checking on your electrical outlets and wiring. Make sure there are no frayed wires, visually inspect any outlets and light fittings for damage, and check that the circuit breakers and fuses are all working correctly. It's especially important to do a detailed inspection if your property is changing occupants.
Do a fire safety check
These types of checks need to be performed periodically to ensure your property stays safe. So why not use the changing seasons as a reminder? You'll need to check all your property's smoke and carbon monoxide alarms (and replace the batteries if need be).
And make sure all your residents are aware of the standard procedure for an emergency - this is where having a platform like @Assist Sugu comes in handy: it's very easy to send a building-wide message updating everyone. Learn more here.
Check your building's basement
If your building has a basement, you'll want to check it once winter ends. They're the part of your property which is especially at risk from flooding due to heavy rain or melting ice/snow. So go down to your basement and have look for leaks and water damage.
Improve your energy efficiency
Take a moment to review how energy efficient your property is. Is it well insulated, or does it lose a lot of heat through poorly sealed doors and windows? (Your tenants' winter energy bills should give you some idea!) And think about installing low-energy LED lighting, too. It's a quick and easy way to make your property more energy efficient - which your residents will love!
Schedule in any remodeling, construction, and routine repairs
If you have any big projects planned - like extensive remodelling or construction - start taking steps to get them scheduled in. It'll help you (and your residents) prepare for any potential disruption.
And if you have noticed any routine repairs which need to be made, don't wait! Contact a contractor and make arrangements to have them done. Assigning contractors to maintenance requests like these is much easier with @Assist Sugu - learn more here.
---
Are these checks a routine part of your building maintenance? Let us know in the comments below.