19 Important Property Tips for Winter Maintenance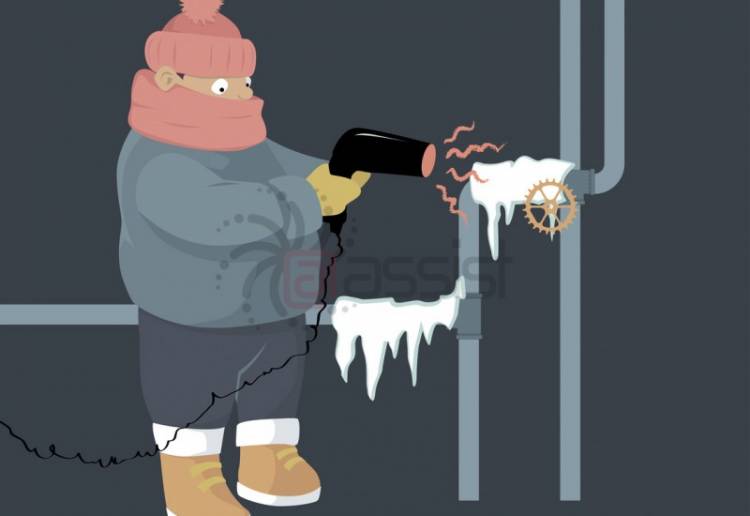 Winter is here and now's the time to take a little extra care of your property - so you can avoid busted boilers, angry tenants and property damage caused by the cold. Leaving you free to make the most of the cold weather... by staying inside where it's warm and there are snacks. For tips on heating your house without breaking your budget, check out this article.
But since you're here already, take the time to review these awesome winter maintenance tips to prevent problems with your property during this chilly season:
Make a plan for removing snow/ice
Winter weather can be tough on a building - whether it's snowfall, harsh frost or below freezing temperatures. You'll need to prepare ahead of time to keep things running smoothly.
Stockpile your supplies
Make sure you have enough salt to last you for the whole of the winter season. Then check you have an adequate number of snow shovels, and your snow blower is working correctly (if you have one).
Decide who's clearing snow, spreading salt and removing ice
Will this be you? Will your tenants do it themselves? Or are you going to hire a third party? It's important to work this out now, so there's no confusion later on.
Check your boilers, furnace and central heating (...now, before they break)
Being stuck without central heating or hot water during the coldest time of year is sure to make even the nicest tenant grumpy! Take preventative action by servicing your boilers, furnace and radiators.
Service your boiler and furnace
Get the boiler and furnace in your building serviced - you can either do this yourself or hire a company to do it for you. In some local areas you'll need to register who's in charge of servicing the boiler/furnace, so check your local regulations. N.b. You'll also need to get your gas serviced and have a safety record for this in place.
Bleed the radiators
When you "bleed" your radiators, you remove the air trapped which builds up inside them and can prevent them from working properly. It's a simple and handy way to avoid boiler problems. Even if you remind your tenants to do this, it's unlikely they'll remember - arrange for someone to do a service of their radiators for them, or do it yourself if that's possible.
Have a plan for emergencies
The very worst time to make a plan for emergencies… is when you're in the middle of an emergency. An emergency plan doesn't have to be complicated but does need to be prepared and reviewed in advance.
Make sure you know what to do
Who will you call to fix the furnace if it breaks? What will you do if the gutters get clogged with debris? How will you handle a frozen or burst pipe? Put together a list of service companies you can call out for emergency repairs - so you'll be able to fix issues quickly and minimise disruption.
Psssst! @Assist Sugu is perfect for contacting and assigning contractors to service requests. Learn more here.
And make sure your tenants know what to do
All of your tenants should know who to contact in an emergency (or should be aware of the emergency button if they're using @Assist Sugu)- whether that's you or another person - and the best way to reach them. And if this information changes (e.g. you're going out of town for the holidays) be sure to update them.
Proactively prevent emergencies
Ask your tenants to inform you if they notice issues like: a faulty boiler, leaky pipes, condensation, damp or mold, issues with insulation, damage to the roof, and problems with the central heating. It means you'll be able to fix minor problems before they become more complicated and more expensive to put right. And it will help reassure your tenants that you're keeping an eye on things, too.
Inspect the outside of your property
A quick walk around the outside of your property can help you spot (and prevent) a few common problems before they happen.
Check your drains and gutters
If your gutters are clogged with leaves, moss and twigs it prevents them from draining properly. And the excess water trapped inside them can 1) overflow, causing damage to the building 2) freeze into ice, and break your gutter/drain with its weight. So clean the gutters of your building to prevent this from happening - either do this yourself or hire an exterior cleaning specialist.
Have a look at your roof
Check for loose tiles and cracks, especially after very windy weather. A little bit of maintenance now could mean you don't end up dealing with roof leaks in the future. And have a look at the insulation inside your loft - it can end up displaced (and working less effectively) over time.
Examine any trees on your property
Heavy snow can cause trees to collapse under its weight. Look for branches that could hit your building, parked cars or electricity cables if they fall, and trees which are rotted or weak. You might need to get trees or branches cut for safety reasons.
Take extra safety precautions
The weather is colder, the nights are darker… and you may need to take extra precautions to prevent burglaries or break-ins from homeless folks looking for a warm place to sleep.
Invest in your security equipment
This could be as simple as adding security lighting or upgrading your security alarm. And if your property is vacant, you'll need to take extra care - and may want to hire a security company to place a guard in your building.
If your property is vacant or your tenants are going on holiday...
The biggest risk you'll face is pipes freezing (and bursting) because the temperature in the property drops below zero. Luckily, there's a simple way to prevent this.
Keep the utilities on
Don't worry, there's no need to crank the heating up to full blast! Just keep the temperature between four and eight degrees below normal. That's enough to prevent the water in the pipes from freezing.
Advise your tenants to do the same
If your tenants are going to be leaving the property for an extended period of time, you'll need to advise them to do the same. Although they may want to save on utilities, they won't enjoy coming home to pipes which have frozen, burst and caused water damage!
---
Although property maintenance is certainly easier in summer than winter, it doesn't have to be a nightmare! Let us know which of these checks you routinely do each winter in the comments below.